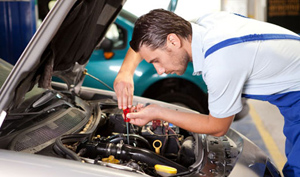 At Fenkell Automotive Services, we professionally repair vehicles that are damaged during any point of delivery, such as from your plant or a storage yard to one of your dealerships. Manufacturers know that their new vehicles will be delivered professionally repaired and damage-free, and will meet and exceed their delivery times.
We invented Vehi-Trac®, a web-based program, which manufacturers flock to, as it provides sensational tracking and reporting capabilities like no other program. This enables you to understand and make decisions/changes to what is occurring with your intransit repairs in every step of the process, as well as benefit from claims management and data analysis.
A
National
Network
To
Serve
You
Knowing that auto manufacturers' risks of moving and damaging vehicles are greater off-site, Fenkell established a network of certified glass and mechanical technicians that repair vehicles throughout the United States and Canada. No other company offers this network.
Through the years, we have formed strong contacts with plants and suppliers/vendors. We communicate directly with them to acquire parts, expedite repairs, and ensure that projects are completed successfully and timely.
Our process includes:
Dispatching projects from our main office in Warren, Michigan, to contractors throughout the country
Notifying them as to what specifically needs repair
Ensuring that they conduct repairs on-site
In most cases, repairs are completed within 24-48 hours, and manufacturers also experience significant cost savings and time savings from our services.
Body
Damages
Handled
When you have vehicles that experience body damage, call on Fenkell to tow them off-site to approved, local dealers for repair. Our services include:
Arranging and monitoring the tow and arrival to the auto dealer
Gathering information and photos to make decisions before repairs are made
Monitoring each of the repairs
Helping the dealers acquire parts to expedite the repairs
Communicating with manufacturers about the status of the vehicles
Sending weekly statistical data and progress reports with live, just-in-time reporting. Our manufacturing clients can view all body repair activities within various storage yards.
Determining whether to return the vehicle back to the yard, divert to a local auction for sale, or salvage it
We invite you to call Fenkell Automotive Services at 586-276-1700.